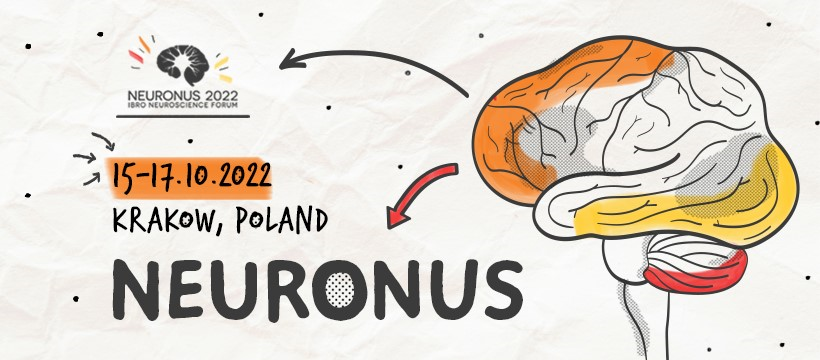 Dear Sir / Madam,
We would like to invite you to take part in NEURONUS 2022 IBRO Neuroscience Forum, which takes place between 15-17 October 2022 in Krakow, Poland.

Registration (early, lower fee) and Call for Abstracts are open until 15th of July at https://neuronusforum.pl/ !
The conference program (biological, cognitive, computational and medical aspects of neuroscience):
– 6 keynote lectures
– 20 symposia sessions
– 3 poster sessions
– workshops: DeepLabCut, EEG data analysis, career-building
– networking events
This year's keynote speakers include:
– Lauri Nummenmaa (Turku PET Centre, Finland)
– Florian Engert (Harvard University, USA)
– Marina Bedny (Johns Hopkins University, USA)
– Suzana Herculano-Houzel (Vanderbilt University, USA)
– Mathias V. Schmidt (Max Planck Institute, Germany)
– Charles Hillman (Northeastern University, USA)
During the upcoming 12th edition of the conference, we will traditionally continue to put emphasis on development of early-career researchers. The main purpose of this event is to provide means for both young and experienced neuroscientists to share the latest discoveries, knowledge and experience in neuroscience, as well as make valuable contacts with scientists representing various fields of neurobiology. We actively promote young scientists through preferentially allocating oral presentations of their experimental results. We offer travel grants for students to support those with less financial support.
We strongly encourage you to join this special initiative! Please contact us at neuronusforum@uj.edu.pl if more information is needed.

Hope to see you soon in person in Krakow!
#RebootingPersonalNeuroscience


Yours faithfully,
Monika Żuwała
Organizing Committee
Neuronus 2022 IBRO Neuroscience Forum